The 2019 FoodWorks Murrindindi Business Awards celebrated some fantastic businesses and individuals across the region in six different categories. Learn about our 2019 winners below.
1. Excellence in Customer Service
Awarded to a business that follows the principles of good customer service and continually looks for ways to improve.
Winner: Alexandra Dental Clinic
Alexandra Dental Clinic has been delivering dental care to the local community for well over thirty years and takes pride in delivering the highest standard of dental care whilst managing a growing business.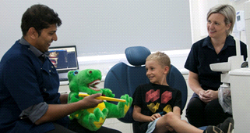 2. Excellence in Products and Service
Awarded to a business that offers overall product and or service superiority, offering a demonstrated point of difference.
Winner: Country Tech Leading Appliances
Country Tech specialises in providing technology products, appliances, I.T. solutions and a variety of services to rural customers. Products include air conditioning, audio visual products, white goods, telecommunications and accessories. Country Tech services include computer repairs and upgrades, mobile phone repairs, home deliveries and installation and technology tutoring. Country Tech recently became an authorized Telstra Partner, Apple and Bose re-seller, adding real quality to our product line up.
3. Excellence in Business (5 employees or less)
Awarded to a business with a maximum of 5 employees that has attained a significant growth and is able to demonstrate specific strategies and process implementation to enable and achieve sustainable growth.
Winner: KESelec Electrical Services
KESelec provide electrical contracting services, including data and solar power installations to the Murrindindi Shire and beyond. KESelec has been in operation since2006, initially operating part time and commenced full time contracting in January 2018. KESelec provides services to the domestic, commercial and industrial sectors. The business motto is "new technologies, old fashioned service" striving to deliver at every interaction with our customers.
4. Excellence in Business (6 employees or more)
Awarded to the business with 6 or more employees that has attained significant growth and is able to demonstrate specific strategies and process implementation to enable and achieve sustainable growth.
Winner: Grant St. Grocer
Grant St. Grocer is a café, restaurant, local produce store and offers catering for special occasions. Grant St Grocer aims to provide locals and visitors a regional food destination. Offering superb Mansfield Coffee and a wide selection of the regions finest produce for tasting and purchase, no visit to Alexandra is complete without picking up some local, artisan produced honeycomb, jams, sweets, oils, beers, wines or ciders. The Grant St Grocer Café & Produce Store is open 9am to 6pm every day except Monday. The Restaurant is also open for dinner Friday and Saturday nights.
5. Excellence in Innovation and/or Sustainability
Awarded to a business that demonstrates a contribution to their industry and /or the environment through the introduction of new ideas, technology, processes, or sustainable practices.
Winner: Status Luxury Houseboats
Founded in 2005, Status Luxury Houseboats are the longest serving houseboat builders in Eildon. From a purpose-built factory in Eildon, new houseboats are produced to customer order and specialize in renovations, maintenance and extensions to existing houseboats at the Eildon Boat Club Factory. Proudly employing 19 full time contractors and at peak times an additional 20 contractors, Status Luxury Houseboats take pride in sourcing approximately 85% of products locally, demonstrating a desire to support local Murrindindi businesses. Status Luxury Houseboats in the pursuit of excellence believes it leads the world in innovative, high tech, luxury life style living in the houseboat industry and are committed to providing excellent service and producing individually designed custom built houseboats to customers' requirements. Utilizing digital media, Status Luxury Houseboats take pride in showcasing the business and its houseboats on Lake Eildon and promoting the amenities the Shire has to offer.
6. Young Business Person of the Year
Awarded to a business person under the age of 30 who demonstrates characteristics of a business leader, self-awareness, decisiveness, fairness, enthusiasm, integrity and knowledge.
Winner: Bradley Irvine - Belle Ridge
Belle Ridge breeds mainly for the meat market and utilize Thornton Butchers to process the carcass and supply Grant St Grocers, preferring to remain with local supply whilst numbers of goats are limited. The plan is to increase numbers in 2020 to around 100 breeding nannies and expand on suppling goat meat to the Melbourne market. Belle Ridge also have two special Boer Billys one being a miniature allowing a breeding program for supply to the pet market. The second Billy a brown Boer, will provide the opportunity to breed with the aim of producing the highly prized brown Boer.
Categories and Criteria
Want to learn more? Explore the Award categories and eligibility criteria.
Nominate Your Business
Ready to take the next step? Nominate your business (self nomination only) via our online portal.